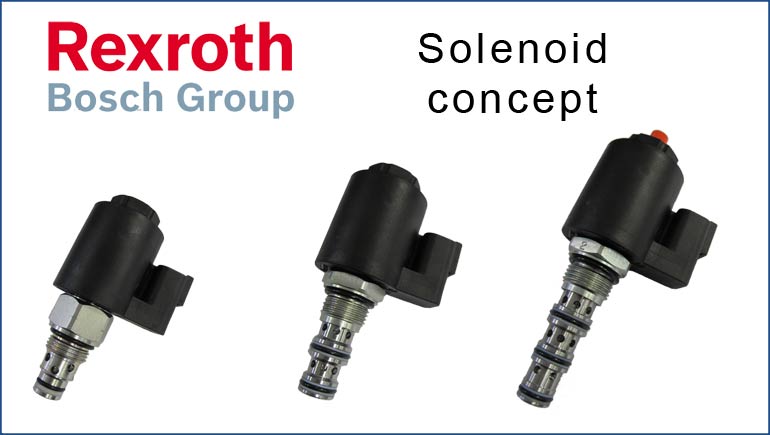 We inform you about some recent Bosch Rexroth product design changes that will result in improved
performance across the range of Compact Hydraulic solenoid cartridge valves and coils.
Click here
to download the Bosch Rexroth documentation.
Performance enhancements:
Improved life cycle
Ambient temperature and voltage range (admissible voltage tolerance versus nominal)
Resistance in harsh environments
More compact coil design
Round shape allows easier positioning / turning of the coil compared to former square design
Important note regarding the design change:
The new valves will maintain the same cavity compared to the current version, granting the interchangeability.
Due to improved performances, the new coils are not interchangeable with the former valves series.
The new solenoid valves only work with new D36 coils, however, the former coil series and valves will be available as spare parts.
Models affected:
Solenoid cartridge valves, pilot operated poppet type 2 way 2 position, cavities 019-E, CA-08A-2N, CA-10A-2N, 017-E, 004 normally closed and normally open (VEI). Double lock valves will be available in the next months.
Solenoid Cartridge Valves, direct acting poppet type 2 way 2 position, CA-08A-2N cavity (VED 2/2 8I, VEDT 08A).
Solenoid Cartridge Valves, direct acting spool type 3 way 2 position CA-08A-3N cavity, 4 way 2 position and 4 way 3 position CA-08A-4N cavity (VED 8I).
Coils S7, S8, S-CE, S2-CE.
Implementation:
The new generation of solenoid cartridge valves and coils has been gradually phased-in from April 2017.
For more information about these new valves and their involvement in your hydraulic integrated circuits contact our sales department.
Valve equivalences:
Coil equivalences: